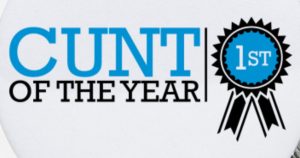 Yes fellow cunters it's that time of the year again when we get to nominate our favourite cunts for the prestigious award of 'Cunt of the Year'
This year's categories are :
* British cunt
* Foreign cunt
* Political cunt
* Sporty cunt
* Corporate cunt
* Covid cunt
* Luvvie cunt
Nominations will be open until the end of November when voting will then commence with the results revealed as usual on the stroke of New Year.
It would help us correlate the voting if you could please nominate your chosen cunts in the same order as the list above.
Fill yer boots!