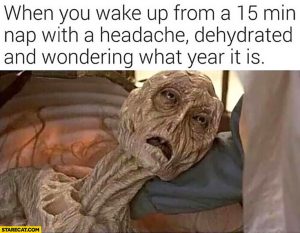 (A reminder to all British cunters out there. BST ended at 2am earlier this morning.. So don't forget to put your clocks back, and enjoy an extra hour in bed ogling this pic or St Greta in yesterday's nom! – Day Admin)
Fellow Cunters, for your Cuntsideration:
Hangovers.
Following on from the nomination about that world record pub crawl, that wasn't, I nominate hang overs.
I never really suffered a bad one until I hit my 20's-after a particularly heavy session, which lasted nearly 12 hours, culminating in my waking up in A&E.
The older I get, the the fuckers seem to get worse.
I look forward to hearing drinking tales from my fellow cunters.
Nominated by: Cuntfinder General