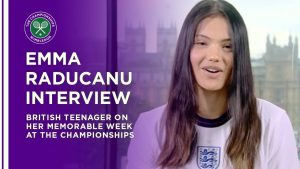 (New balls please – mine are now empty! – Day Admin)
Congratulations to Emily for winning the US Open. At least I think that's what it was because as soon as it happened all I could hear and see was the Lammy, Khan, the Beeb, The Guardian and the usual boring, vain, woke journalists saying that the win demonstrates something about, Brexit, immigration, multiculturalism, and racism. So now I can't be arsed finding out more about it.
They also keep mentioning that it proves immigration is a good thing. Now, I'd imagine a girl moving from Canada, with Chinese/Romanian parents and playing tennis had a few quid so there'd be little argument there would there?
1000 Peacefuls coming every day illegally on dinghies and no papers is another fucking story. Tens of thousands of Afghans, some already picked up for terrorism, is also another fucking story.
I'm not aware of any racism directed towards Emma, but maybe one or two tweets from the multi millions on her Twitter will be found. I'd say that's a sign that sport is doing WELL with racism.
Personally, she's representing England so she's English to me. I'm not interested in her heritage and it's nice that she's not is follower of "Old Peaceful". Same with football, England has had black players, popular ones, for decades and it's a tiny minority who would have an issue with it.
The cunts are the ones who keep bringing it up and something out of little to fuck-all. I'm bored shitless of all this endless campaigning in sport. It's a total cunt.
Nominated by: Cunt Dreamboat