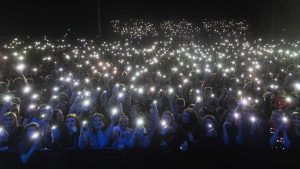 Music Fans – Past and Present
Have been watching some rock videos both from recent times and "back in the day", and I have to say the more recent ones still have some great music, but the audiences just don't have a clue how to react!
For context, have been watching some old "Monsters of Rock" videos from the 70s, 80s and 90s, along with a couple from Queen, Sham 69, The Jam, The Clash, 808 State, The Prodigy, Motorhead, AC/DC and of course the Stones – all great music, but what really helped the atmos was the animated participation from the thousands of people in the audience, most of them totally zoned into the music, waving arms, shouting out the lyrics, head-banging and moshing and generally having a good time!
Compare and contrast to some more recent affairs, one of which includes a fave band of mine, Bon Ivor. They played a great gig in front of packed audience back in 2019, including some great hard guitar riffs. But the audience more or less stood there wondering what the fuck to do as they held up their phones and tablets to record the event!
And even though the band tried their hardest to get the audience to let themselves go and enjoy the music, they still just stood around like fucking clueless zombies!
I know I'm making a bit of a generalisation, but OMG don't fans have any idea how to enjoy music these days?
Nominated by: Technocunt