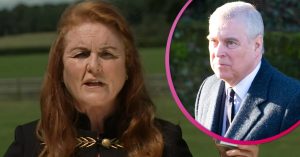 Sarah Ferguson needs a toe sucking cunting,
this ginger slag has stated she is going to stand by her wedding vows to Andrew the innocent of any pervery I'm sure.
Back to the ginger slapper, correct me if I'm wrong but isn't she divorced? has been snapped with various different blokes that she's been fucking and aside when she needs some attention or money leads a virtually separate life from old sweat free, to honourable Andrew the cunt.
Nominated by: Fuglyucker 
(For those interested regarding Sarah's current standing with the Royal Family, according to Wiki… "The decree nisi was granted on 17 April 1996 and the divorce was finalised on 30 May 1996, after which she legally retained the style Her Royal Highness with the style of other divorced peeresses, eliminating the preface "The" before "Duchess of York".
However, it was announced in April that Sarah had chosen not to use the style Her Royal Highness and would relinquish it under the divorce terms. In accordance with letters patent issued in August 1996 regulating post-divorce royal titles, Sarah formally ceased being a Royal Highness, as she was no longer married to the Duke of York.[
Her current name, thus, is Sarah, Duchess of York. Should she marry again, Sarah would lose the use of the style of "Duchess of York" (unless she would remarry Prince Andrew)." – Day Admin)