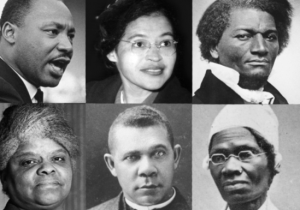 From The Independent
If children don't learn about the achievements of Black people, what hope is there for future racial equality?
What hope indeed. This culled from the Independent a newspaper apparently. Written by one Beverly Daniel Tatum. Dont know if this writer is one thing or the other. Perhaps a trannie hedging it's bets.
We dont teach the great black writers because we are racist. Structurally and institutionally naturally. Let's have a look at why this is:-
Chaucer, Shakespear even Dickens, the Brontes and so on predate black writing let alone the 'great' black authors.
So what are we supposed to be teaching at the expense of these white supremacists?
Some cunters may know of 'great' black writers. I'm fucked if I do.
Yet again, for the sake of inclusivity we must lower standards. Only a matter of time (hinted at in some universities) before maths, physics and chemistry go out the window in the cause of inclusivity. And Rastus getting the Nobel prize for Physics for passing GCSE.
Nominated by: Cuntstable Cuntbubble