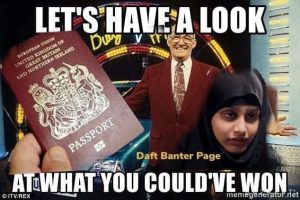 Cunters our favorite pin up girl and former (so called) Jihadi is moaning again. Misses England apparently. Fucking boo hoo bitch.
Why can't Boris get this cunt slotted? Seems easy enough to me. Anyhow can we all chip in to pay for the bullet?
https://www.dailymail.co.uk/news/article-9654083/Shamima-Begum-claims-fled-UK-join-ISIS-Syria-didnt-want-left-behind.html
Nominated by: CuntyMort
And this from Nawaz
Maajid Nawaz wants poor mistreated innocent Begum to have her citizenship back and piss all over the graves of her victims
Nawaz pisses and moans constantly about an imaginary Uighur genocide but when it comes to the ACTUAL Yazidi genocide he shows his complete lack of humanity and compassion for the victims
For those two reasons he is a massive cunt
And helpful link and support by  Hard Brexit Cunt
Here's a link to Maajid Nawaz on LBC saying that the "UK should 'do the right thing' in Shamima Begum case".
https://www.lbc.co.uk/radio/presenters/maajid-nawaz/isis-bride-shamima-begum-uk-must-do-right-thing/
In my opinion, doing the right thing means filling in Begum's cunt so that she can't drop any more sprogs and then burying her up to her neck in ISIS territory so that her peaceful brothers can stone her to death for being a slapper.
On this link, there is also a clip of that massive cunt James O'Shithead saying that he believes that a politician should not be able to remove British citizenship from anybody. Hasn't this prick heard of the Doctrine of Parliamentary Sovereignty which means that Parliament alone has the right to make and unmake laws and that no Parliament may bind a future Parliament?
If Parliament decides that the Home Secretary has the power to remove British citizenship from an individual so be it. And it is better that the Home Secretary has this power because I am sure that many left-leaning judges would refuse to do so on the grounds of yuman rites.