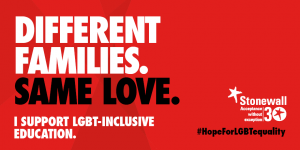 Stonewall the organisation that caters to trannies and it's head Jenny Kelly. Or is that Gerry Kelly. Who knows.
This creature (see, no offensive pronoun or misgendering there) has likened questioning tranny bullshit to ant- semitism.
The creature also seems to think that freedom of speech doesnt apply to criticism of trannyism. You know, stuff like biology, common sense and so on. All hate speech according to whatever pronoun this creature prefers.
https://www.bbc.co.uk/news/uk-57281448
This collection of deviants is a charity god help us. It also seems to be able to push it's nonsense into the mainstream, get normal people no-platformed and has a malign influence on children. Particularly when the parents (is that allowed?) are woke halfwits.
Any cunters wishing to contribute to this charity can find the details on the website.
Nominated by: Cuntstable Cuntbubble 
and this from Lord Helpuss
The shiteheads at Stonewall believe that anyone should be able to determine their sexuality by self-certification. They are outraged that the government will not allow this in the new act of parliament which makes concessions to transgenders.
https://www.stonewall.org.uk/what-does-uk-government-announcement-gender-recognition-act-mean
Stonewall campaigned for gay rights and I think we can all agree they justly won equality. Some of us think it might all have gone a bit over the top and can't understand why Gay Pride marches still happen. Could it be just an opportunity to show off?
Anyway, if Stonewall had any credibility they would simply close down, their main aims achieved.
But no, to justify their continued existence, and to keep the organisation going and pay salaries, they have adopted he transgender issue. They say that any man for example can just declare himself a woman and use all female facilities and compete in sports. The physical advantages gained by going through puberty as a male notwithstanding.
Stonewall are cupid stunts.