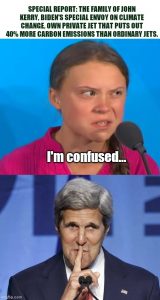 Long time Senator, the Democrats 2004 Presidential candidate and recently appointed as Uncle Joe's "special envoy for climate." Last week he tweeted……..
"We need to get carbon dioxide out of the atmosphere."
You what? You what? You what, you what, you what? John is nearly as old as the hair sniffer but i'm pretty sure they had schools back when they were kids. Maybe John was excused science classes because they were teaching that new fangled evolution stuff back then?
These are the cunts making decisions about our lives and they know fuck all about fuck all.
Even a window licker like Greta Thunderpants has taken the trouble to read a couple of books on the subject! What a bunch of fucking arseholes.
https://news.sky.com/story/climate-change-uk-to-encourage-others-to-act-ahead-of-biden-summit-and-cop26-no-10-says-12278711
Nominated by: Freddie the Frog