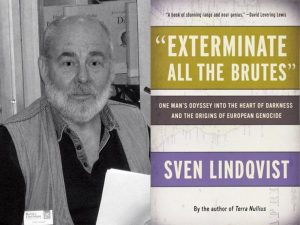 Sky TV is advertising an upcoming TV series called Exterminate All The Brutes. This appears to be another load of anti-white woke wank so I decided to google the programme to find out more.
https://en.wikipedia.org/wiki/Exterminate_All_the_Brutes_(2021_film)
It is based on a 1996 book by a Swedish cunt called Sven Lindqvist.
https://en.wikipedia.org/wiki/Sven_Lindqvist
It seems that this cunt of a TV series is taking a very biased look at European imperial history and is accusing Europeans of colonialism and genocide whilst totally ignoring all of the positive aspects of European migration and trade. The Wikipedia page for this pile of crap says "filmmaker Raoul Peck sets out to illuminate the intertwined currents of hate and bigotry running through history. Focusing on the United States' legacy as a colonial power, Peck explores how race first became institutionalized [sic], the Nazi program of 'elimination' and its antecedents in the West, and the looting of the African continent in a 'gentlemen's agreement'".
It seems like these woke cunts are obsessed with "racism", "colonialism", "hate" and "bigotry".
I'd love to round up every woke cunt in the world, drop them off in Libya and nuke the shithole and these cunts out of existence.
Nominated by: Hard Brexit Cunt