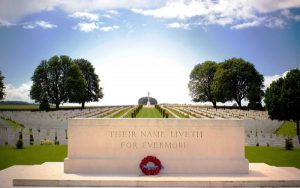 (Golly gosh: look at all those white tomb stones. More perceived racism no doubt – DA)
So apparrantly 130 000 blek and parky men have been left off the dead of the first world war. Those racist bastards?
Never mind that millions of families were grieving for their dead. I always go to Cypres street in East London on 11/11 . Half the street dead. The idea in a country 99.8 % white they were busy looking for dead men with no family in Britain is fucking absurd. Not racist at all.
They just had more important things on their minds. Employment for the disabled, housing, near starvation. I live in East London and have made a point of looking for Parkys and bleks wearing a poppy in November.
In the last 15 years I havnt seen a single one. Fuck you race industry. I hate you with every fibre of my soul.
https://www.theguardian.com/uk-news/2021/apr/21/uk-inquiry-blames-pervasive-racism-for-unequal-commemoration-of-black-and-asian-troops
Nominated by: Smugcunt
Link helpfully provided by: Jessum Priest