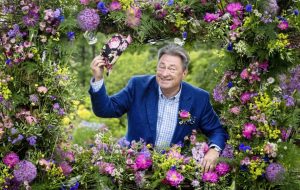 The first programme that I remember him in, he was accompanied by a thick brickie and a ginger bird with big tits.
The years have not been good for the ginger bint. I saw her on the television recently and she is almost indistinguishable from one of those huge, hairy, ginger Highland cows. Almost the exact size and weight, but without the horns. Probably smells the same too.
The Titchmarsh cunt has also transformed himself.
He has a series called Love Your Garden where with just the help from a few dozen labourers, several tons of machinery and an unlimited budget, he somehow manages to change a shit hole garden into less of a shit hole garden.
But what really annoys me is the simpering way that he now acts. He has definitely got in touch with his feminine side and I fear that he may have caught The Gay.
His new whiney voice irritates the fuck out of me and there is not a programme where this sad excuse for a man is not drawn to tears. His producers should tell him to man up, grow a pair of bollocks and plant a fucking tree, but they don't.
Instead they are now cashing in on his suspected poofiness and have given him two new ways of upsetting me with Love Your Weekend and some crap series where he minces around county houses.
Alan Titchmarsh. Gardener or uphill gardener (allegedly). You decide.
Nominated by: The Artful Cunter