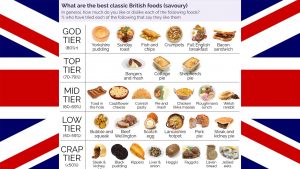 I would like to cunt British cuisine.
I love Britain and I am very proud to call myself British. Yes I am an Englishman but Mrs E/cunt is Welsh and generally I like all of our English speaking near neighbours; apart from the racist cunts in Plaid Cymru and the SNP fuckers.
Anyway I digress.
Sadly I my opinion our food is that it sucks. It is fucking tasteless or foul tasting shite.
Boiled Beef and carrots fuck off, Tripe and onions Yuk my wife is the only twat I know on earth that likes and eats such shit, toad in the hole a batter pudding and sausages fuck me tastes fucking 'orrible,
The famous Barnsley meat pie butty, a meat pie in a bap!!!. Lava bread (sea weed) another one of Mrs E/cunts Welsh delights tastes like fucking sludge and probably is dredged from Cardiff bay,
Haggis how much whiskey do you need to drink before this becomes remotely edible? bread and butter pudding give over bland bland bland. Please feel free to add to this putrid disgusting list of tasteless torture.
It pains me to say this but the wops, dagos and frogs all make a far better fist of culinary delights than my own nation of which I am very proud. So it is with a heavy heart I cunt tasteless foul smelling bland British food.. Sorry…
Nominated by: Everyonesacunt