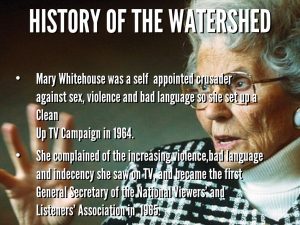 For those of you too young Mary was some old Bible bashing biddy who from the 60's onwards (she snuffed it in 2001) complained about sex and fucking swearing on TV ( especially the BBC)
At the time all us young dudes laughed at her and thought she was a cunt. In fact there was a TV comedy show called "The Mary Whitehouse Experience" where the wokie David Baddiel made his name.
There was also , I believe, a soft porn magazine (remember those?) called "Whitehouse" which a friend told me about. I believe it was published by a certain David Sullivan, co owner of West Ham United, who obtained the rights to the Olympic Stadium after long negotiations, and exchange of brown envelopes, (allegedly – DA) with David Cameron (Prime Minister) and a certain Boris Johnson (Mayor of Londonstabistan).
I'm also informed, by a friend, that Baroness Knightsbridge ( otherwise known as Karren Brady) might have been involved in a leg over situation with a certain Eton toff. (the one with untidy blonde hair)
Anyway, I digress.
Recently I have been watching on YouTube episodes of "Little Britain" and the "Catherine Tate Show." They are both 21st century and both BBC but it didn't take very long to realise there is no fucking way they could be shown on the telly today. Just take a look and judge for yourself.
So Mary got her way after all although for very different reasons. You can still see simulated sex on the telly but only if it is 2 poofs arse fucking. I wonder what Mary would make of this fucking world today?
Nominated by: Freddie the Frog