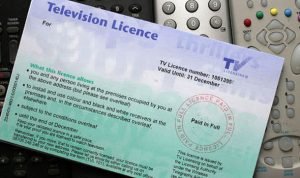 It would seem despite a universal distain for this "viewing tax", we won't be able to be rid of it until at least 2038!
Apparently its all the government's fault for not rolling out super-fast broadband quick enough to every corner of the fucking country!
According to the Telegraph article below, the government pledged to deliver full-fibre broadband to every home by 2025, but this was downgraded to 85% of all homes in the same timeframe.
(Pardon the interruption, but why the fuckity fuck would it be the government's job to provide fibre based broadband to anyone? – NA)
Without broadband, it would difficult to offer subscription TV and thus end the TV licence, according to the article.
Ofcom reckons there are "190,000 homes" that "do not have decent broadband"
This delay goes hand in hand with a recent government announcement that it had "shelved plans" to decriminalise licence fee evasion – despite mounting support!
The article finishes off with a rather smug comment from some BBC cunt saying "We welcome the conclusion that the licence fee is the best way of funding a universal BBC"
Exactly why it should take a further 17 years to reconsider this matter is beyond my scope, especially for what looks like "190,000" homes that don't have good broadband. And even when 2038 finally comes along its not saying anything will happen because no doubt there will be even more obfuscation.
This government seems shit scared of some "sacred" public services, whether its "save the NHS" during this lockdown circus; or protecting "Aunty BBC" from market forces because the nation loves it!
17 more years to get super-fast broadband online throughout the country (Is this just England or Great Britain as a whole? Because the way things are going on Scotland might well be an independent country by then. Which is convenient if all areas of Scotland end up with broadband thanks to taxpayer's money from central government in England, and pulling up the "independent" drawbridge shortly afterwards. But that's another story)
17 more years of this shit; and yet the government wants to abolish new petrol/diesel vehicles, and gas central heating and move us all over to electric by 2030 (less than 9 years), even though the national infrastructure is scarcely in place.
Doesn't make fucking sense to me!
https://www.telegraph.co.uk/politics/2021/03/25/uk-stuck-bbc-licence-fee-2038-broadband-rollout-failure-say/
(Behind a paywall unfortunately)
https://news.sky.com/story/bbc-tv-licence-fee-alternatives-ruled-out-for-now-as-government-misses-the-boat-for-reform-12255527
(This one isn't – NA)
Nominated by: Technocunt