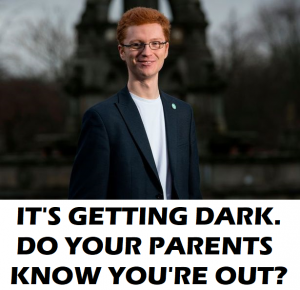 Ross Greer is a total cunt ! Who's he ? an SNP cunt that's thoroughly annoyed that Alex Salmond is running against his turd ridden excuse of a party with another sorry excuse for a party that of course , seeks independence from the rest of the UK . I had the misfortune of seeing the little prick on the news giving it large about how shit Alex Salmond is , Oh to the contrary you little cunt , because you're talking about a much bigger cunt and unlike you , happens to be (grudgingly) a much cleverer cunt than you . I don't even know if he was even old enough to vote for the last independence referendum and he's talking like the all knowing , all conquering , highly experienced MSP that Salmond ACTUALLY is . I've never liked Salmond or his politics and i certainly don't like the accusations that he's been embroiled in , just to get that straight , but in political terms there's no contest . It's a bit like wheeling out a sherman tank to deal with a pram . There seems to be sheer panic about this new Alba party in Scotland and to be fair , it might be the best thing that could happen to the Scottish Conservatives , Oh the irony ……
Nominated by: EVILSCOTSMAN
Seconded by TheBestRevengeIsLivingWell who also provided a link:
https://www.thescottishsun.co.uk/news/politics/6879411/alex-salmonds-alba-party-mocked-fringe-outfit/
Scottish Greens MSP Ross Greer branded the launch a "public meltdown of a disgraced has-been" and said the party's creation was motivated by a "personal vendetta".
I want it noted that as a proud Sassenach I have officially helped a Scotsman and therefore want, nay demand, a Nobel Peace Prize!
Fuck off!