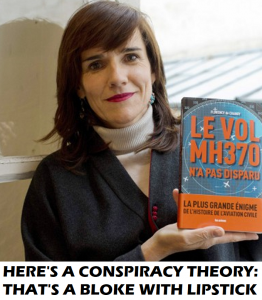 Today's dollop of tinfoilhattery comes from a French journalist called Florence de Changy, who is peddling a book about her theory of what happened to the Malaysian airline after it disappeared from radar.
Obviously the US are the bad guys, and she says she came to her conclusion after reporting on the disappearance for several years and has 'debunked' all the other explanations, and say that all the countries involved in the 'fake' search for the plane after it went missing are colluding in the cover up.
One of those countries is Vietnam, who have a little bit of history with America, which might not make it an enemy, but will probably not want to involve itself in covering up a US military operation that resulted in the deaths of civilians.
de Changy claims the Americans wanted to get their hands on some tech that was poorly labelled on the manifest, and made the airliner disappear from radar by flying an AWACS plane above and below it to blank it from the radar, then ordered it to land. When the pilots refused, MH370 was then shot down.
Far fetched doesn't come close.
I can't work out if she is mad, or she is writing this bollocks to make money of cunts who will now believe anything as long as it's anti authoritarian, or most likely, a bit of both.
Cue lots of 'expert' theories by those who gained overnight diplomas in avionics, aerodynamics, satellite positioning and capture data, global tidal behaviour, and a greater understanding of the complex relationships between the governments of all concerned parties.
https://www.dailymail.co.uk/news/article-9407441/Author-reveals-startling-new-theory-missing-Malaysia-Airlines-MH370-jet.html
Nominated by: Gutstick Japseye