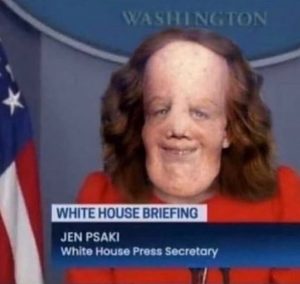 (No, it's not really her! – DA)
I nominate the libtard stooge Jen Psaki; for being a cold, loathsome cunt!
It's amusing watching her painstaking antics of showing just how real and responsible Biden and their fellow party are. Her lurid makeup free deadpan of a face will make any heterosexual male vomit from disgust.
Her plain dressed attire shows off a new appeal to the "socialist look," that would even have made the late Kim Jong il envious. Her pretentious socialist display is an act. Like all members of this vile and villainous bunch before her. They're rotten and putrid stench reeks of dishonesty and thievery.
Socialism may sound like a noble cause for mankind's woes, but if one heeds closer, it's always been in return for their own personal gain. It's been a curse upon society from the beginning. By the leaders claiming to be doing the good will of the people. Deprivation of your fellow man and society in general is morally wrong. It's a bastardized ideology that's contaminating its way back into the 21st century.
PS Sorry if it may have sounded like a rant. I did my best, considering I'm not a journalist and English is my second language (Aramaic is originally my mother tongue).
Thank you,
Nominated by: Dagnabbit
…and this from Meat Curtains
Jen Psaki
(Pronounced Jen Socky)
Here in the States we have to see and hear this cunt constantly. For those who don't know who the fuck she is, she is Demented Joe Biden's mouthpiece (press secretary). While she stands behind her guilded podium attempting to defend the indefensible, I feel my piss reach critical mass. This cunt accepted the job of trying to publicly and with a straight face, explain that the U.S. is NOT being invaded from the South, and NOT being turned into a woke Marxist shithole. Not sure how this bitch sleeps. As chief agent of Biden's Ministry of Truth she pumps out her bullshit but assures us that all is well now that Orangeman is gone and Creepy Sleepy Joe has supplanted him.
From the safety of her Washington DC enclave she doesn't have to deal with the disastrous policies she is promoting. I'd like to see this cunt forced to live out her days near the Rio Grande River where she can hear the gunshots of cartel wars and illegal aliens passing through.
She is as good at her job as she can be but it meant she traded her conscience for a throne in the Cunt Hall of Shame.