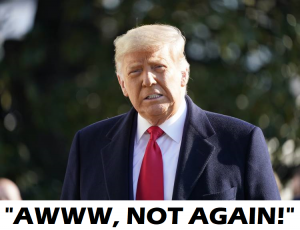 The impeachment of President Donald Trump is a cunt.
As an onlooker I enjoyed the last four years of Trump in power. He is a ruthless businessman and a hardnose politician who wouldn't take any crap, didn't care who he offended or made cry, used a little known law with up to 10 years in prison to stop left wing terrorists tearing down and or vandalising federal statues and got Skeletor Pelosi so furious it has been reported her forehead moved slightly when she pissed and shat her tenna pad. No, he didn't have enough time to make America great again, but he tried and certainly made it stronger.
Biden and flat back? For entertainment value alone I think I'm going to enjoy the next four years even more. The USA will now be run by the weak, for the weak, whilst the strong foot the bill, as usual. Hopefully by the time the Democrats have finished pandering to the latest terrorist organisation, with Burn Loot Murder being en vogue at the moment, along with the other usual suspects, LGBTQP, Mexico's immigrants aka the Mexican mafia, Extinction Rebellion and then every other *minority group with a pity me sob story they will run out of other peoples money. Not their own money of course, no chance, but hopefully I can enjoy watching as they eat themselves alive. What I won't enjoy watching are all the normal people caught up in all the woke Marxist shambles that will be eaten alive too.
Goodbye president Donald John Trump, it has been an absolute pleasure….or maybe Adios Amigo?
*Minority; When you add all these minorities up they become the majority ?
Fuck off!
Nominated by: Coolforcunts
Seconded by: 75 Million Americans