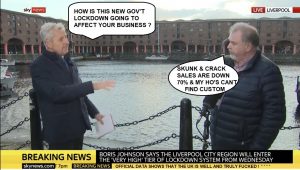 A 'Let's make a Drama out of a Crisis' cunting for both Sky & BBC's complete waste of time & effort coverage of the latest lockdown rules !
"This is Sky's Alistair Cunt reporting to you 'Live' from Liverpool – the city that has entered Tier 3 (dum dum daaaa!) lockdown measures & nothing at all is happening !. I could be showing you footage of any other day, as no fucker goes to the High St to pay over the odds anymore, anyhow"
"Following the governments new 3 Tier lockdown measures, we sent BBC reporter Katie Falsesympathy to see how Manchester is reacting to the news.."
"Clive, I'm here in Manchester, where useless Mayor Andy Burnham is still whining & bitching like an old woman. But I've come to Machester normally 'vibrant' city centre to talk to Wayne Kerr, owner of the 'Fuck a duck' Cafe"
"the Gov't are killing my business Katie. I've implemented social distancing in my 4msq cafe & limited customers to 12. I even started selling cheese & hydroxychloroquine pasties and Dexamethasone wraps. I've now got to let both my illegal Syrian workers go"
Labour leader Dame Kweer Storm-in-a-teacup, made a bold stand against the PM's latest announcement by neither supporting or condemning the restrictions.. "Labours clearly defined policy of sitting on the fence & having no policy or ideas of our own, is at the heart of our fight for the UK working class" Dame Kweer told our spam faced reporter, Sam Coates.
Nominated by: Lord of the Rings