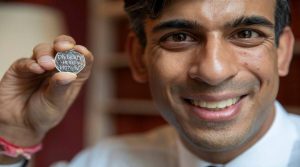 Just when you thought the Tories couldn't get any more left wing, out they come with the release of a new 50p coin with the moniker, 'Diversity Built Britain' plastered on it.
The press release has a grinning Rishi Sunak holding the coin.
Now I for one agree that non whites have done things to help Britain. On balance?…meh. Probably been a bad idea. Bit some have helped, for sure.
But built the fucking place? Fuck off!
Britain was over 99% honkey as recently as 1948. It was still over 94% in 1997, when Blair then fucked the country in the arse.
The honky man built Britain. And if you keep on telling them otherwise they might start wanting to deport 'diversity'.
Get the fuck out!!
Oh, and Britain built loads of fucking other countries too. So fuck off!!!
Nominated by: Cuntybollocks