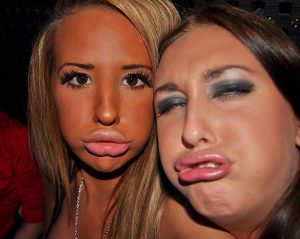 An Elizabeth Arden and 'Avon's calling' cunting for the plethora of fucking stupid little millennial bitches, pouting like a cartoon tuna fish in their "Cuntbook" profile pics.
Normally you see them taking a selfie with boss eyes, because they're staring at themselves so intently in the screen to ensure that they look like an A-list pornstar. A lot of these slags must have been watching make-up tutorials by Youtube influencers that tell them it's great to look like Coco the clown after he's had a strawberry trifle thrown in his physog. They look so ridiculous. I mean, how much slap do you need in order to impress your classmates and peers and get a 4k following? So much that when you do your trouty pouty, you risk the fucking lot falling off and ending up all over your augmented baps it would seem.
And what's with that stupid cunty stick on puppy nose that they use to make themselves look cute? Cuntbook is turning so many girls and young women into vain, duplicated morons it's unreal. Stop putting your lipstick on 3mm beyond your lips, ok girly? And stop sticking your mouth out, because you look like an ugly, vacuous, self-absorbed CUNT.
Nominated by Dai O'Rhea