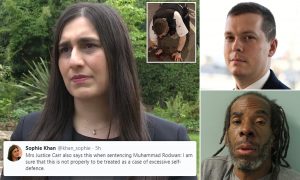 Sophie Khan…Who?? Well, fellow cunters, if you haven't heard, just get this.
Mizzzz Khan is a solicitor. So far, so good, but incredibly, this fuckwit has come out in defence of machete wielding nutter Muhammad Rodwan, who's just been banged up for 16 years for his vicious attack on PC Stuart Outten. In spite of the very serious injuries that Outten sustained, he managed to subdue the animal Rodwan using a taser.
Khan has stated that Rodwan acted 'in self-defence' in the face of 'excessive force', and went on to say that she was 'surprised that the Metropolitan Police haven't started disciplinary action against PC Outten for assault and battery against Muhammad Rodwan'. Yes, it appears that Khan views the thug Rodwan, who's got previous for rape and assault, as the 'victim' in this case.
Disciplinary action??? This officer deserves a fucking medal. I don't know about anyone else, but I'd say that this so-called 'legal professional' has brought her profession into disrepute with her vile and ludicrous comments. I really don't think that I need to say more. If ever there was a case of a cunt cunting herself, this is it. Okay Khan. You've had your 15 seconds in the spotlight, now fuck off and don't come back, you piece of shit.
Nominated by Ron Knee
Sophie Khan…
https://www.dailymail.co.uk/news/article-7927199/Lawyer-says-heroic-police-officer-disciplined-saving-life-Taser.html
A cunting for this useless parasite, sorry, 'lawyer', please, for stating that PC Outten, the copper that had his skull fractured by Mohammed Rodwen, who he stopped for having no insurance on his van, a cunt with previous convictions, including rape, used excessive force and should be disciplined for having the cheek to save his own life.
This utter, utter cunt's not fit to lick the blood off that brave bobbys boots. I hope that one day she meets the likes of Rodwen in a dark alley, so they can have a chat about his rights.
Nominated by DCI Gene Cunt