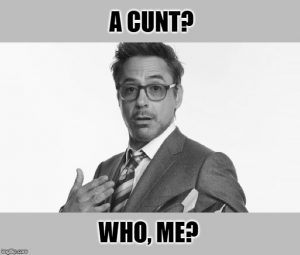 Robert Downey Jr. is a cunt, isn't he?
This egotistical flaker has just been paid a fortune for redoing another version of Dr Doolittle. Whispers suggest it's a charmless pile of wank from the oily turd. Apparently, he does a Welsh accent. What a choice to talk to the animals.
Once a bit of a junkie, Downey is now most famous for his plethora of "Iron Man" films, though I've seen one and it was nothing like the Ted Hughes story. Hollywood also indulged in redoing a couple of rancid Sherlock Holmes flicks starring Downer. His cunty levels still weren't high enough, so he was paid to do a video for an Elton fucking John dirge, the undiscerning whore.
Robert Downer syndrome started early when they decided on redoing the classic "The Singing Detective" and change it from a British surreal masterpiece of grit into an American, real piece of shit.
He once made a short anti-Trump film with all of his dressy-up pals from the Marvel "Avengers" soap-opera. The one-trick pony actor, who makes fantasy films about flying around in space, also recently spouted about the environment and said he wants to "clean up Earth" with his…zzz…
Instead of redoing this and redoing that, what about redoing drugs, you dead-eyed, Iron Cunt. If you could talk to the animals, they'd tell you to fuck off.
Nominated by Captain Magnanimous