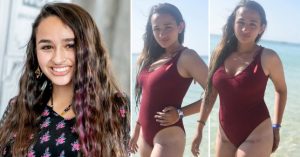 A nomination for Jazz Jennings, a 'reality tv star' and 'transgender activist' who is stepping into 2020 by 'embracing who she is and the journey that it took for her to get there, by sharing a photo of herself in a swimsuit that shows off scars from her 'gender confirmation' surgery.
She refers to the scars as her battle wounds because "they signify the strength and perseverance it took to finally complete my transition."
I'm still confused as to whether the creature is now a woman, or was she a woman before and became a man? Actually, do I really care what this cunt is?
Nominated by Mystic Maven