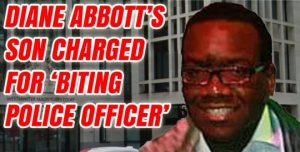 You can only imagine a real BAME sense of entitlement drives the son of the current Shadow Home Secretary, the lovely Diane.
James Abbott-Thompson appeared before a judge at Thames Magistrates Court where he was accused of 11 crimes – most of them on NHS property.
He is alleged to have gone on the rampage attacking nine people including five emergency workers, two of whom were assaulted on the same day.
The 28-year-old faces nine charges of assault, a charge of of racially aggravated criminal damage and one of exposure over the past five months.
George Gross, defending, said: 'The defendant proposes to indicate not guilty pleas.'
He sounds a real charmer, doesn't he? Exposing himself, hitting, biting – for the many not the few I am sure. How lucky we are to have a "resistance" of such characters.
Nominated by W. C. Boggs
We now know the full extent of this privileged, odious punk's charge sheet. THREE assaults on police officers, one count of exposing himself to hospital staff, several violent attacks on nurses and doctors, racially/religiously aggravated assault…
How the fuck does a person collect so many charges without having been hauled before a judge 'till now!? If I committed just one of these it's a prison term, this prick has 11. How did somebody so dysfunctional and savage as to be beating nurses get a job as a fucking diplomat for our nation!? Why the fuck is this prick still allowed through the doors of any hospital in the country? One attack on NHS staff should mean a red card you son of a fucking architect!
What's the bet this filth pleads mental health problems, promises to get help and doesn't get a single day in the nick? The rodent should be in prison, banned from using NHS services, and stripped of British citizenship.
Nominated by The Return of Rev. Shagga
James Abbott seems to be being treated somewhat leniently by our justice system. It has been suggested that this could be because his mother is the Shadow Home Secretary.
You might very well think that. I couldn't possibly comment.
Nominated by Francis Urquhart