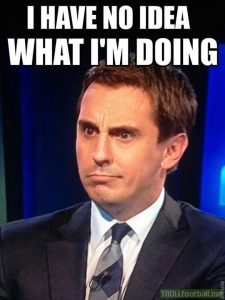 Gary Neville is a cunt, isn't he?
Gary Neville, regular cliché turnip of Sky Football, previous bootlicker of Alex Ferguson, bestie mate with David Beckham, and all round bell-end, believes Football should empower players to walk off the pitch if they face racial abuse.
This solution by Neville who, let's face it, has never been known for his intellect or depth, is both embarrassing and crassly stupid. It does nothing but score the little window-licker some 'liberal' points while saying, "look at meee, I'm not waycist."
What happens when the other team continue playing football, Gary? If you walk of the pitch the other side win. Have you considered that, Gary?
What happens when teams are being beaten 2-0, pretend they've heard some racist abuse and walk off pitch. How do you prevent that, Gary?
Incredibly, Gary, who always looks like he's breathing through his mouth, is not even the ugliest brother in the Neville family, although he may be the most stupid. He recently blamed PM Boris Johnson for "fuelling racism" in Britain. Gary Neville! Is he about to trade in his Man United defender shirt and Sunshine Coaches haircut for a Lib Dems badge?
This is defeatism at its highest. It encourages snowflakiness. If players were entitled to walk off the pitch it, that would be the reaction required, and would ultimately result in far more racist chanting. Instead, why not tell players to be stronger and do their bloody job, for which they're paid a fortune.
Consequently, why not stick to YOUR job, Neville, you fucktard: Muttering bad commentary in a whiny, nasal Manc voice.
Nominated by Captain Magnanimous