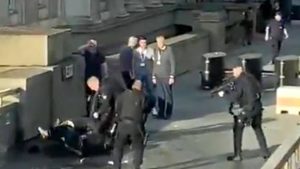 The British legal system
It turns out that the Cunt who was shot on London Bridge yesterday, was convicted of terrorism offences some years ago, and was out on licence.
Once these fuckers have been locked up they should stay locked up for life.
The ideal would be to stick them in front of a firing squad.
Only for our poxy, bleeding heart, liberal system, two innocent people would not have died yesterday.
What a heap of Cunt.
Nominated by Jack The Cunter
Sadiq Khan
Lets have another Square Mile cunting for this diminutive crock of shit, London Mayor, and failed ex-cabinet minister Sadiq Khan.
Want to find somebody to blame for yesterday's terrorist attack at London Bridge?. Of course it cant be the fault of his compatriot, the terrorist ex jailbird. It certainly isn't little Sadcunt's fault, anymore than the record number of murders we have had in London this year. It can't be careerist lesbian Cressida Dick's fault for running a joke police force,
No the solution is obvious – blame that nasty government
https://www.express.co.uk/news/uk/1211315/London-Bridge-Terror-Attack-Sadiq-Khan-blame-Conservative
Just a few years ago this little arsewipe would have been thrown out of his job. Perhaps he would now if he were pale, male and stale, but it seems highly likely that the poisonous motherfucker will be returned for another 4 years of misery next year. Fuck him (I'll leave Dame Keir to do that)
Nominated by W. C. Boggs
The Parole Board
The parole board need cunting again.When are these cunts going to be held to account when they let the dregs of society back out on the streets .Yesterday we had the attack in London from a twat who was out on parole,and funnily enough the ankle tag didn't seem to dissuade him from crime.The cunts that sit as the parole board should be doing time for letting these scumbags out.
Gobshites
Nominated by CrustyFlaps