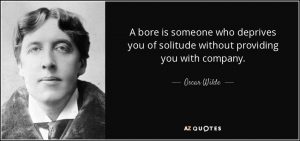 I am conscious that I might end up cunting myself here if I'm not careful.
By the way I dedicate this Nom (paraphrasing the words to the Willie Nelson song) to all the bores I have ever known before.
You see cunters I would always end up in the kitchen at parties WITH THE BORE. A soft touch. But in some ways I was fascinated. Trying to analyse it the first thing I would identify about them is that they DON'T LISTEN. That is the determining characteristic of the Bore-they are not listening, their only interest is in what they are saying. Now because they are not listening this allows them to abruptly change the subject. Or just to leave some anecdote or story in the air. The Bore has moved on is the paradox here. HE IS BORED.
The Bore. Let's look at what great writers have said. James Joyce 'I have never met a bore'. I suppose in his forensic desire to get to the heart of some character he would find something that was interesting in anybody. Similarly Chesterton said we must try to see a bore's 'interesting points'. He gave the example of one counting all the blades of grass on a garden lawn. What a yawn reader. But yes, maybe, he wanted to more 'fully explore' the. garden lawn. Waugh? 'He couldn't go on being Hardcastle, day and night, always, could he?' Sebastian asks Charles in Brideshead. And that is actually a very profound question. My friend Dave comes to mind. As he walks out of the pub I look after him and think 'He couldn't go on being Dave, day and night, always, could he?' But I know he must do.
Switching it as is my wont as a putative bore but really we could change the name of this site from 'Is a Cunt' to 'Is a Bore'. That's what we're cunting everday-the utter PREDICTABILITY of cunts. In the morning when I click on ISAC with many Noms of people you have only to look at the picture TO KNOW (before they even open their mouths as it were) what's coming. That is the boredom of today. The utter predictability of everyting.
You know cunters Waugh (in the 50s) said-'I see boredom everywhere' about the coming decades. And what did Hazlitt say? 'Most men are fools' . Most men are bores today and women too.
I need to finish up I'm becoming as bore. Yes, what about the world beyond? Yes, at the Beatific Vision the bore who never stops talking, doesn't listen. In the presence of the power and the glory the bore still telling the same story. Forever. Oh, hell.
Nominated by Miles Plastic