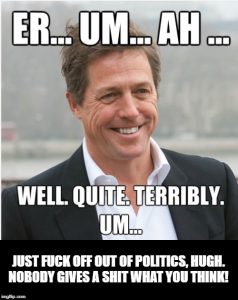 Hugh Grant is a cunt, isn't he?
Every once in a while this aloof cunt sticks his head out of his Kensington mansion to poke his nose into politics and wag a priggish finger at the Hoi Polloi. It's all a pretence however, as in reality he's advertising a new dreary film about an upper class berk mumbling and bumbling like it's 1927.
Aside from making anachronistically clichéd films, there's nothing Grant enjoys more than being all righteous about some superior crap. Well, that and being sucked off by cheap whores in Hollywood.
This time he's been mouthing off about Brexit, despite it being over three years since the biggest electoral victory in British history. He's been promoting tactical voting to prevent leaving the Fourth Reich. Standing next to Labour's/Change UK's/Liberal Undemocrats' (delete as appropriate) Chukka umWobbler, he said, "I have never been involved in a general election campaign before. I don't want to sound dramatic, but you could argue that it is my job, but I really do think we are facing a national emergency."
No Grant, your job is to be a third-rate character actor, perpetually flogging a dead stereotype as you did in the sentimental vomit that was "Four Weddings and a Funeral".
Grant, who was in the intensely-political Paddington 2 (cunted by yours truly), has mouthed off about Brexit before, bizarrely throwing his support behind the old spinster, Dominic Grieve (!?).
Perhaps Grant sees himself as a late-blooming political man of the people. He has, after all, made such deeply poignant films as "Love, Actually", "Notting fucking Hill", "Bridget Jones 1", "Bridget Jones 2", and "Red fucking Nose Day".
Hugh Grant: Cunt, Actually.
Nominated by Captain Magnanimous