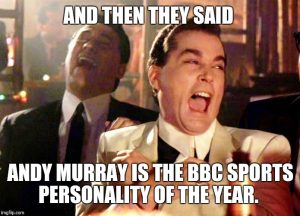 Now, this used to be a fascinating night when I was younger, but in recent years it's been a pile of cunt, usually fronted by either a potato crisp salesman or a `national treasure' Lesbian.
Now, given the recent results of the `Glorious 12th', I have been dipping my toe back into the bizarre world of 'today identifying as Auntie BEEB,' so thought I'd give it a go. Well, fuck me. After some Dark key footballerist who is apparently descended from Jesus himself, the greatest sporting highlights this year appear to be wimminz football, wimminz rugby, wimminz cricket, and any number of raspberries able to steer their wheelchairs without stacking it, oh, and Michael van Gerwen, presumably because he represents Europe.
Fuck off until you can do it properly again, you bunch of faggot, virtue signalling, Libtard arsewipes.
Cunts.
Nominated by Kunte Kunty