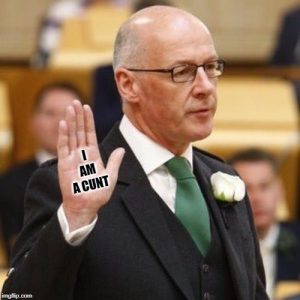 I'd like to to nominate John Swinney please (this is my first attempt so please be gentle, fellow cunters!)
I came across (ooh er missus!) this little snippet of world-shattering news by accident:
https://www.bbc.co.uk/news/uk-scotland-tayside-central-50821872
Apparently, Herr Swiney (see what I did there?) and an organisation calling themselves 'Perth Against Racism' are getting their collective knickers in a twist after some stickers bearing the slogan "It's okay to be white" have mysteriously started appearing on lamp posts and drainpipes throughout Perth city centre. Swiney has been positively foaming at the mouth over it, ranting the "atrocious" stickers had "no place in Perth or any other part of our country" and "we must stand together to resist this unacceptable material." One stupid cunt had this to say: "I am certainly worried now for my daughters who are not white, but are from Perth. It's sickening and disgusting to know that people think like this." Don't worry, luvvie. I don't think you need to worry about the Perth branch of the McKu Klux Klan coming to rape and murder you and your daughters in the middle of the night, dressed in their tartan hoods and kilts.
What I find especially ironic is that Swiney is the current deputy and ex leader of the Scottish Nazi Party, whose unashamed and palpable hatred of England and anything English doesn't seem to constitute racism. Incidentally, his uncle, Tom Hunter (VC) is the only Royal Marine from the Second World War to receive the Victoria Cross and was killed in action. He would have been very proud of wee little Johnnie.
Quite clearly (and apologies if I am) I must be missing the point as to what I see as a violent overreaction to a few stickers. Just remove them and have done with it. I understand the slogan may have been picked up by neo-Nazi groups, but I believe that was in the USA.
Anyway, we don't seem to have the same fuss over the Black Lives Matter movement, do we?
Nominated by Cupid Stunt