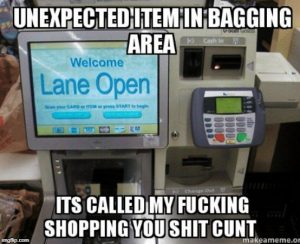 Self-checkout in grocery stores…
This is the second time this week I have needed to go to the grocery store for a few select things (most groceries I already have). Both times I proceeded to the self-check out station, only to find some degenerate with a full shopping cart, scanning each item one by one.
What the fuck??
The lesson learned: If you have a stockpile of thirty-plus groceries, get in line and wait for a cashier like the rest of us. Don't be a cunt.
Nominated by Goodwill Cunting