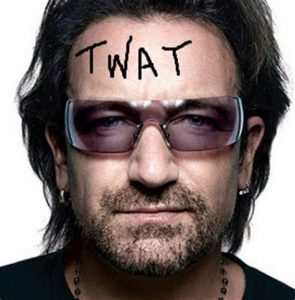 Bono
For some reason, my suggested vids on youtube suggested I watch this sanctimonious blowhard lecturing a few billionaires at Davos. So I decided to give it a watch. After two minutes I had to turn it off. His whiney drawl combined with his unmatched sanctimonious, smug style was too much to bear.
Whenever I see this charlatan given a platform at Davos or the UN, I always ask myself: why? Why is some overrated has-been treated as if he's some oracle of wisdom and enlightenment? Does writing a few tin pan alley songs confer on a person expertise on matters political? He has nothing original to offer – nothing, just the rehearsed clichés and platitudes these out of touch wankers constantly regurgitate.
He is one in a long line of smug celebrity types who thinks he knows better than the ordinary plebs. I recall him lecturing concert-goers in Paris after the Bataclan attack, telling them how wonderful Islam is. The cheek of the c*unt. And after the Sweden Democrats got a sizeable vote in the elections, he labelled their supporters "nazis".
I knew this fella was a prize wanker early on in his career. I remember clearly interviews he gave in the 80s where he made out that he had grown up in a very tough area in Dublin called Ballymun. He even wrote a song about the place called 'running to stand still'. He was talkin' about all the fights he had been in and how hard it was growin' up. I found out years later that he actually grew up in a middle class area near Ballymun, and had attended private school. His whole working class spiel was one big lie.
Anyway, on behalf of my fellow countrymen and women I'd like to apologise for burdening the world with this uber c*unt.
Nominated by An Irish Cunt