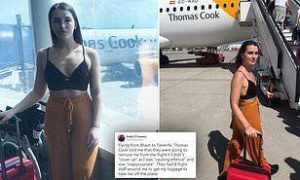 Emily O'Connor the latest me, me, me production of recent years relentless drive to 'empower' women warrants a cunting.
This young bint waltzed onto a Thomas Cook plane dressed like a prostitute and was therefore threatened with being offloaded by cabin crew unless she covered up. Queue the usual wailing and gnashing of teeth, multiple use of the words 'rights' and 'humiliation' in her defence.
Two things from the article in the Independent really made my piss boil. Firstly rather than simply comply this cunt stood up and actually asked the other passengers if she was offending them. Secondly, much more aggravating, yet fairly typical of today's snowflake generation was her insistance that she was left 'upset and shaking' at the way she was treated.
Your own fault you entitled cunt. Do what you're told, have a little respect and maybe try dressing without revealing 75% of your baps to anybody that looks in your general direction and just maybe you'll get through the day without being regularly 'humiliated'.
Nominated by Bellendiousmaximus