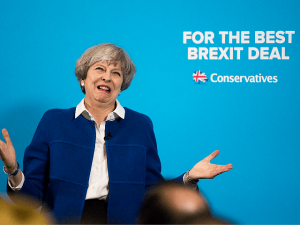 Hello children. Are you sitting comfortably? Then I'll begin. Today's story is about Nanny Theresa and her box of Brexit plans.
Now, Nanny T, according to Reuters, spent last Friday showing her withered old box to a lot of people and trying to get them to all agree that it was a lovely box full of wonderful plans. Well, children, when we try to get everyone to agree to something this is called "finding a consensus" and it involves all the people who Nanny T thinks are important.
On Friday Nanny T tried to find a consensus of her ministers, her divided Conservative Party and the Northern Irish lawmakers who prop up her minority government. But naughty Nanny T forgot some people didn't she, children. Can you guess who she forgot? Come on, hands up if you know the answer.
Yes, Boris – please Miss, is it pikey bastards? Good guess Boris but no, that's not the answer.
Yes Jacob – is it Albanian criminals Miss? No, Jacob – good try but not correct.
Yes Nigel – is it peacefuls driving on the pavement Miss? No, Nigel.
David, you're a clever boy, who do you think naughty Nanny T forgot about? Is it spineless senior police officers Miss? No, David.
Well children, it is a difficult question so I'll give you a clue to the answer – 17.5 million voters. Treacherous cunt.
Nominated by Fimbriations