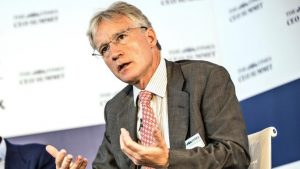 Doug Gurr, UK manager of Amazon.Dot.Cunt. This previously unknown mini-Cunt nobody has just opened his cake-hole and made an attempt at joining the ranks of Mega Cuntdom.
"Amazon's UK boss has warned the Brexit secretary, Dominic Raab, that Britain would face "civil unrest" within weeks of a no-deal Brexit" (Times,23/07/18)
Fucking slave driving cunt, scared that Amazon.Dot.Cunt.might run out of an endless supply of cheap labour and have to pay its human drones a half decent wage.Jesus the Gobal Elitists must be shitting bricks to drag out a cunt called Gurr as its latest scaremonger Fuck off back to the USA if you dont like it you cunt and take your shitty jobs with you.Cunt..

Nominated by CuntsR-Us
I want to nominate Doug Gurr for a cunting. Gurr is the UK head of Amazon, and recently issued the dire warning that a no deal Brexit would lead to civil unrest in the UK within two weeks of us leaving. As project fear is once again ramping up its dire predictions of doom and gloom should May finally grow a pair of balls and tell those sneering, unelected, arrogant, incompetent dickweeds in Brussels to shove the EU and go with WTO rules, this gem from Gurr has to be far and away the most ridiculous and pathetic.
63% of 'young' voters, the 18-24 year olds, couldn't even be bothered to go out and vote, how the fuck are they going to work up the will to engage in a riot? And what of the rest of the whingeing cunts who desperately want us to remain enslaved to the EU? How would that soppy bunch of left wing twats go about rioting? We're hardly talking Brixton or Toxteth here. Perhaps they'd hurl petrol bombs, only instead of petrol, they'd use organic coconut water. I can imagine lots of tofu and organic avocado and egg and cress sandwiches being launched too.
Given the procession of freaks and weirdos who've been photographed at numerous pro-EU demonstrations, I bet there'll even be a bunch of trannies wielding dildos. Yes, these snivelling traitors will really bring the UK to its knees and make us reconsider our decision to leave the EU, won't they?
Doug Gurr, you intellectual pygmy. You shit stirring sack of monkey vomit. If you want to do something useful, get your boss, Bezos, to pay Amazon's fair share of tax in the UK. Otherwise, shut the fuck up, you cunt.

Nominated by Quick Draw McGraw