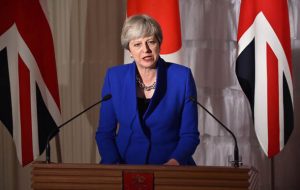 Fucked in Florence
Could the sirens sound more strident? May has spoken in Florence and the fate orf poor Blighty is laid oit clear and crystal. We are to be buggered, shafted and fucked.
Once again the Hunch Back orf Downing Street has proved herself no Margaret Thatcher who battled the graft and incest orf the EU and achieved long term meaningful reforms for Blighty in the snarling teeth orf the bureaucrats orf Brussels. Teetering orn her kitten heels, May, the old crooked back boiler, is twisted and guided by the malicious Sir Humphreys orf the Civil Service and, desperate sad day, the traitors within the Tory Party. Compared to May, Merkel looks like a Berliner sex bombe.
To mark the cards orf more callow cunters, the concept orf a European Trading Zone was dreamed up by Sir Winston after the war and backed by the Yanks. Churchill had saved De Gaul's jambon many times during the war and considered him a friend so went to him first with the idea. Naturally old gallic conk poo pooed anything not orf his own creation so bided his time and then went running around Europe drumming up support for "his" brain wave. This became the Coal and Steel Community which Blighty was specifically not invited to join. To give them their due both the Belgians and the Dutch objected, thinking it a very rum show to cold shoulder Blighty who had recently given its all to save the world.
This then morphed into the EEC which Blighty subsequently applied to join in 1961 and was then most perfidiously black balled by old frog conk in league with the Blighty hating Kraut arse snake Konrad Adenauer. Recall as if it were yesterday the shameful headlines "De Gaul Says Non" (14th Jan 1963). Sir Winston stabbed in the back once again. Worth noting that the running boy for Blighty in this farrago was Edward Heath who likewise was shafted by old garlic breath whose principal object was to achieve French domination orf Europe.
Fast forward to 1973 and after many endless loop negotiations now PM Edward Heath will accept any crapola terms just to get in. Heath gets the bums rush and successor Wilson offers a referendum on membership in which he prudently stays out of the picture (unlike cunt Cameron). Re the crap terms we have been playing catch up ever since and eventually it's the vote to fuck orfski.
As both De Gaul and Thatcher demonstrated the only way to get a halfway decent deal is to negotiate like a wog camel trader backed up by all the hit men in Sicily. Total intransigence is the only way to handle the fuckers. Yet May has already let most orf Europe sniff her knickers and park its bikes in her fanny. Easy or what?
Nominated by Sir Limply Stoke