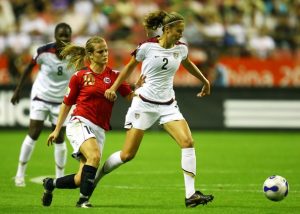 Womens football needs a cunting because frankly, who gives a flying fuck?
If you've read any of my previous posts you'll know I have no time for football, its stars or its fucking fans. For me it's just bread and circuses to keep an ignorant burger munching society in line so they don't notice that the masses exist to serve the few. So that's regular football for me, I would rather play with dog turds.
But Womens football? What the fuck is the point? If grown men kicking a ball around bores me to fucking tears then this is like counting hairs on a pigs scrotum while watching a dog scarf out its own anus.
Then there's all the feminist crapola that goes with it. I heard yesterday on the BBC some stocky looking old growler saying that womens football needs a woman manager. You know what you old biffer? nobody gives a fuck. And the "home" of womens football? the fucking BBC of course.
If it was topless I would be interested but only if they got a new squad, most of them look like they've been round the block a few times.
What next? Peaceful womens football? I would love to see two teams of walking black postboxes having a kick around but how would they see the goal? probably use an infidel's head as a ball too.
In short, womens football…go suck a dick and fuck off while you're doing it.
Nominated by Spanky Mc Spank