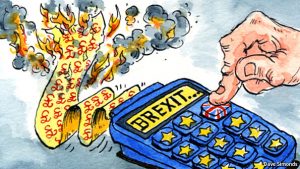 May has made the UK a laughing stock all over the world. She and her cabinet colleagues (with the possible exception of David Davis) are nothing more than an embarrassing bunch of remainer 5th columnist cunts. Who'd take us seriously now negotiating trade deals, etc?
Along with the EU fawning media and its leftard commentators asserting the UK is obliged to pay a 'Divorce Bill', they are selling us down the river, with drip drip estimates ranging from €36billion to €100billion.
But where on earth did this absurd notion of a divorce bill come from?
It beggars belief that the UK taxpayer, having poured £10s of billions net into the EU over the last 40 years, should now be expected to pay anything at all on leaving!
5th columnist EU supporting Financial Times reckon €100bn would be about right. Really? 10 years net membership fees upfront for fuck all?
Besides, the EU accounts have not been audited and signed off by a recognised accounting firm for years. If anything, the UK is probably due a sizeable reimbursement! What about the considerable UK stakes in EU assets (property and other profligate investments) not taken into account?
And why do they call it a divorce? Most divorces (apart from those involving Peacefuls and Morons) do not consist of 1 versus 27. It's more akin to leaving a club. But what sort of club charges a member (who has paid heavy net membership fees for next to nothing in return) a fortune to leave said club? If anything UK should be due a refund. Unfortunately it seems a sizeable proportion of the electorate has been brainwashed by everyone from T. Bliar to Lord Haw Haw, aka James O'Brian, into accepting the opposite!
Our Establishment and negotiators are still overwhelmingly Remain, soft as shite, and totally lacking balls and experience. Cunts all, pure and simple.
Nominated by Shitcake Baker