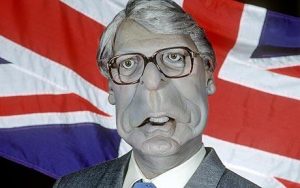 Four eyed cunt sticking his oar in probably egged on by that other cunt Camoron.
Can't understand why though. A lot of the folk the 'IN' campaign are trying to appeal to are the younger generation, most if not all of who will not remember this fucking clown. Those of us that do remember the cunt will also remember him for signing us up to that Maastricht treaty shite without allowing us to have a vote on it first.
Many will also remember him for shagging the most stupid woman this planet has ever spawned, namely Edwina Currie. This act alone surely strips him of any shred of respect due, no matter how small.
But I'm sure that everyone who does remember you John will remember what a first class fucking cunt you were, and still are. FUCK YOU Major, fuck off preferably to another country where nobody knows you and we won't be reminded of you ever again.
Nominated by: Captain Cunteye