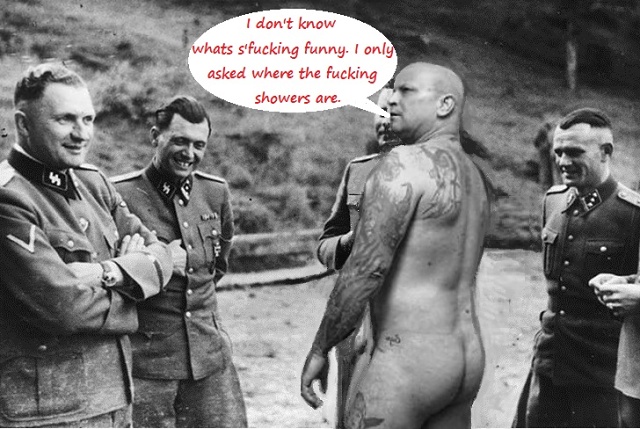 Chris Spivey is a cunt. A gargantuan cunt. A pig-ignorant, barely literate, inarticulate conspiracy theorist cunt with a website on which he posits his ridiculous theories that pretty much every major national disaster and/or world tragedy is a hoax staged by "crisis actors" sponsored and arranged by the government of whichever country the event takes place in.Spivey is a typical under-achiever with nothing to show for his life but his tattoos and therefore has only his hilarious insights and idiosyncratic notion of "the truth" left to bequeath to posterity. His website is littered with self-dramatising crap about his arrests and lack of support at court appearances, how he won't go to hospital in case he's murdered by the establishment, and photos of his pets and infant grandson presumably designed to elicit sympathy (or "illicit sympathy" as Spivey would surely write).
9/11? Inside job.
Australian coffee shop? Faked.
Lee Rigby? Didn't happen (in fact Spivey alleges that one of the "killers" was in fact the boyfriend of a Bristol-based "crisis actor" who took the role of the female Australian lawyer "killed" in the Sydney coffee shop).
ISIS hostage beheading videos? Hoaxes.
Glasgow bin lorry crash? Staged (and the motive for that would be what, Chris? You're slightly sketchy on this…).
Tell all the above to the families of the allegedly fictitious victims – or are they crisis actors too? And presumably that means their friends and neighbours, extended families and everyone they work with and went to school with must be crisis actors also? Fuck me, being a crisis actor sounds like a job for life – where can I apply?
And now the cunt is even suggesting that the mugging of disabled pensioner and Tony Robinson-lookalike Alan Barnes (the crime that prompted that recent massive whipround) was a huge con. According to medical expert Dr Spivey, Barnes is not a pensioner at all, just a young guy with a progressive ageing disease and the so-called mugger was, presumably, a crisis actor (once again, no credible motive offered).
Egged on by a tiny band of fucktard believers, each one a cunt in his or her own right of course, Spivey frequently points to "anomalies" in tabloid news reports as "evidence" of his laughable theories.
Just like thecolemanexperience (cunted previously) who often links to the Daily Mail (of all places!) for his "evidence", the Cunt Spivey either fails to realise or conveniently ignores the fact that tabloid journalists deliberately fabricate, embellish and distort their stories to make them more sensational – so of course the truth and the facts won't ever bear much relationship to what you find in the tabloids, but there's no conspiracy – it's just that tabloid journalists are lazy, unethical, unprofessional cunts, as has been demonstrated time and time again over the last few years.
Likewise, as any fule kno, reporters on 24-hour rolling news channels routinely present ill-informed conjecture and speculation instead of verified facts – but they are not trying to mislead, they simply don't have the full story and are just desperate to fill airtime so they waffle on regardless.
Anyone who sees anomalies or inaccuracies in tabloid news stories or 24-hour rolling news reports as "proof" of so-called "false flag operations" is a monumental cunt who urgently needs their fucking head examined. And that's all Spivey's "revelations" essentially consist of – Spivey insisting "it couldn't have happened the way The Sun/Mirror say it did because…" – and that's true, Chris, very often what appears in the tabloids beggars belief – but only because tabloid hacks unashamedly make the stuff up, you silly cunt! Once you realise that tabloid owners are in it to sell papers by entertaining readers, not by reporting the truth, maybe your hilarious paranoia will subside a little?
Undoubtedly there have been a lot of historical establishment cover-ups (paedophilia and murder at Dolphin Square, Elm Guest House, Cyril Smith, etc), but the problem with cunts like Spivey and thecolemanexperience is that by presenting serious, credible issues like these within the same context (ie on the same websites) as all their ludicrous "false flag" bullshit, they only serve to damage the plausibility of those cases which truly do merit investigation.
The only "inside job" I want to see is the one where the fucking delusional cunt Spivey tops himself.
Nominated by: Fred West