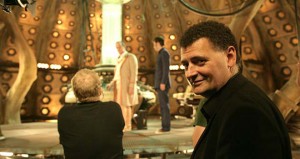 Steven Moffat is a cunt. This smug, self satisfied, BBC royalty, nu-Who twat has ruined one of my favourite boyhood TV shows. His plots and stories are appalling. That River Song bollocks that lasted over two series (If she says "Spoilers" once fucking more….).
The frankly ludicrous story arcs and the substandard villains he has created. His terrible to non-existent use of classic Doctor Who foes (He has never written a decent Dalek or Cybermen story, and I dare say he never will!). Moffat claims to be a longtime Who fan, but I don't think he gets it at all. His episodes of that Sherlock Holmes thing are also shite.
Been watching "Genesis Of The Daleks" featuring the great Tom Baker on The Horror Channel. That's the real shit.
And that presenter on that particular channel (Emily Booth, I think). I'd really give that one…
Nominated by: Norman Whiteside