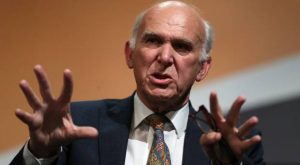 Did anybody see ITV this morning? I generally avoid Piers Morgan like the plague but for some unfathomable reason it was on and the remote was not to hand! ( I know lazy Cunt) I noticed doddery old cunt Vince Cable on the sofa and Bernard jenkin ( leaver) on live feed , Jenkin asked Cable " do you respect the referendum result?"
With his eyes darting from side to side the old cunt replied "We acknowledge the referendum"
That's not answering the question you fucking slippery old wanker!!! Jenkin should have gone in on him but didn't he did however say that he found Cable's position on Brexit laughable as his party (himself included) had pushed for an in/out vote on the EU before Cameron!! The old fool had no answer to that!, and looked completely out of his depth when in debate…..
Leaden footed old cunt should be in a care home, not trying to derail Brexit!
Cable's whole fucking career has been talking like some wise old sage from the touch line of British politics but put him front and centre and he is an absolutely useless 24 carat cunt…….
Nominated by Quislings