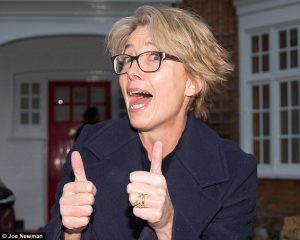 May I take this opportunity to nominate a timely re-cunting of the 'fragrant ' and flagrantly narcissistic Emma Thompson . I am affronted that there exists a strata in society of pompous , pampered and arrogant dick-heads as exemplified by said thespian.
She seems to believe that she is doing us all a favour by enduring the privations of living in this drab, grey, cake obsessed country so that she can bestow her largesse in emerging from her gilded cage in order to sprinkle stardust on us bottom feeding plebs who she so clearly despises.
In order to achieve the aim of brightening our humdrum lives she has foisted upon us , in the past , a deeply unfunny and lamentably formulaic shite laden self -publicising TV series and even more blameworthy, if that were possible appeared in that execrable load of twat , the bore-a-thon Bridget Jones cuntfest, a (cunt word) franchise that celebrates the cuteness of menstrual, self-obsessed , cock lusting harridans.It's enough to make one a dyed in the wool misogynist.
I love the female form in its various manifestations, but to combine moderate good looks with overwhelming cuntitude is a cruel joke. Run Kenneth run…
Nominated by: Simon deCuntford