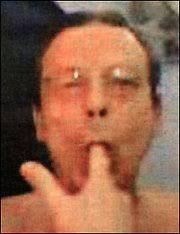 Congratulations again to Shaun (i.e me) who has won the Deadpool again by picking the murderer web cam wanker and soapstar Leslie Grantham whoat 71 is the latest dead cunt.Grantham served 10 years in prison for shooting a taxi driver in the head but still managed to land the role of Dirty Den in Eastenders in 1985.After four years Dirty Den was killed off except he returned 14 years later with those famous lines "Hello Princess".He was killed off again two years later after the tabloids published a story about him sucking his finger on webcam and masturbating while slagging off fellow cast members while impersonating captain hook.(Let`s hope he wanked with the right hand).He moved to Bulgaria popping up on TV screens over there but had recently filmed a movie about the Krays called Dead Man Walking which is kind of ironic.
Anyway On to Deadpool 96:
Here are the rules (pay special attention to the first one):
1. Nominate who you think is the next cunt on the way out. You can have up to five choices. List your nominations in the comments of this post. It's the current Dead Pool. Comments not in this post (e.g. in the previous one or other posts) will be ignored!
2. You win if your Cunt dies first.
Then the slate is wiped clean and we start again. Of course, you can always be a really annoying cunt and steal someone else's dead cunt candidate from the previous pool (like Black and White Cunt frequently does).
Any cunt who tries to cheat by nominating the World's Oldest Man or Woman is a cunt and will be ignored. Any anonymous cunt who can't be bothered to make up a name for themselves will also be ignored. Oh, and the usual "Our Blog Our Rules" thing applies.
Nominations are now open on this post only. AND BEFORE YOU NOMINATE, FUCKING READ THE EXISTING NOMS TO CHECK THAT NONE OF YOUR PICKS HAVE BEEN TAKEN ALREADY! Good luck
My picks (Shaun)
Charles Krauthammer
Stefan Karl Stefannson
Matt Cappotelli
Begum Kulsoom Nawaz Sharif
John McCain