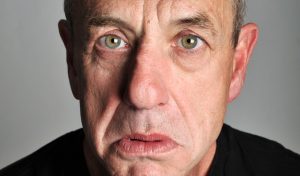 ….Professional Cockney and typical BBC material.
I can't believe that this slimy saggy-faced socialist shit-bag has managed to evade a cunting for so long.
Too ugly to have his face on tv, the droning cunt does the voiceover for the dire daytime tv programme 'Money for Nothing', starring the uber prim Sarah "I never shit" Moore.
The cunt, who's a year younger than me but looks 15 years older, claims to be teetotal following a nearly (but not quite near enough in my opinion) fatal attack of pancreatitis.
I forgot to mention that the piss-head has been described as being a "comedian".You maast be aaavin'a larf, Arfur.
Have a relapse and go on a life-threatening bender and give us all a laugh, you boring cunt! The first drink's on me.
Nominated by: cuntator