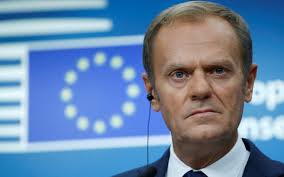 Following the visit of the Westminster La Gobs yesterday, that demented old fuckwit Donald Tusk has yet again said today we are welcome to change our minds about leaving. What the fuck do they take us for?. Very wealthy
men – Mandleson, Blair, Dick Branson, Gina Miller, Ken Clarke, Fukka Umunna are far too anxious to remain so it must be good for them, but not good for the rest of us.
Why don't we just walk away from the EU and tell them to fuck themselves.
Tusk is like an old pikey who won't accept no to his offer to sharpen our knives means no.
Nominated by W.C Boggs