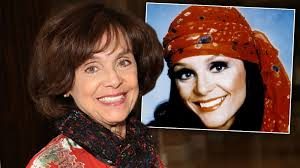 Congratulations to Shaun (me) who correctly predicted that multiple Emmy award winning Mary Tyler Moore star Valerie Harper would be the next celebrity to die.Harper had a 60 year career but will be best remembered as Rhoda Morgenstern the sidekick of Mary Richards in the hit 1970's show.Her character Rhoda even got a highly successful spin off.Harper was diagnosed with lung cancer in 2009 only for it it to return in her brain lining four years later.Initially given 3 months to live she defied the odds by living 6 and a half years.and appeared on dancing with the stars in 2014.Valerie Harper turned 80 just 8 days before her death.
On to Deadpool 141
The rules:
1)Pick 5 cunts you think are on the way out.No duplicates allowed.Anyone who nominates the world's oldest man or woman is a cunt and will be ignored.
2)It is first come first serve.You can always be a cunt and steal other peoples names like Black and White Cunt frequently does.
3) It must be a newsworthy cunt we have heard of.
My Picks (Shaun)
Larry King
Ruth Bader Ginsburg
Juliette Kaplan
Clive James
David Gulpilil