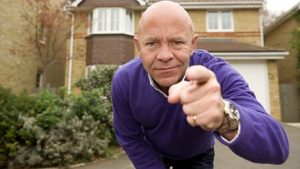 A daytime Z-listed cunting please for this self important and deluded Uncle Fester lookalike who pollutes morning TV with cheap *reality* shows. The baldy poison monkey grimaces, legs astride in front of police cars in a MP police station car park as he introduces you more hard hitting, cutting edge, but cheap CCTV. Very cheap. Each show must cost about a tenner to make. Just collect a few mugs who want to be on telly, so you don't have to pay them, a few coppers who like to imagine they were in The Bill, and a few town hall jobsworths who want everyone to see how *important* they are strutting round, put them with a hand camera, a director who is doing his first job since leaving school. Then all you need is little Dom, who went to the same East End Mockney School as Arfur Smith, but sounds a bit rougher, and how could you lose.
Littlewood's latest abomination goes out round about midday on BBC1. We got a new TV yesterday, and Mrs. Boggs decided to test it out with this dreary programme.
The old slaphead motherfucker is so *good* he makes you want to retch. You can imagine him at school – "please sir, Gordon just farted and Tony just put his hand up Mandy's knickers. The bolshy little cunt is a total wankstain, pure as TCP. and I just hope his tawdry career collapses due to some peccadillo that brings him embarrassment and shame.
Nobody is as good as this old bugger pretends to be.
Nominated by W. C. Boggs