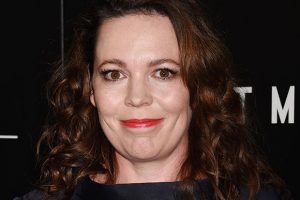 Olivia Colman's a bit of a cunt, isn't she?
Initially it was quite humorous seeing this funny-looking goon in productions but now the moon-faced ferret is in everything. It's as if she's cloned herself for every channel.
Who can forget her demented, wide-eyed, screechy woman with the Northern accent in Peep Show? Or the demented, wide-eyed, screechy woman with a Northern accent in Flowers? My favourite was the demented, wide-eyed screechy French woman with a Northern accent in Les Miserables. Now she's up for an Oscar (who still watches this backslapping shitfest) for her role as Queen Anne as a demented, wide-eyed, screechy woman with a Northern accent.
However, she's recently remarked how she feels "threatened" by losing her anonymity and now lives "like a hermit" since achieving fame.
Psh.
Colman, who starred in Broadchurch with that other portentous cunt David Tennant (who attended the Lifts-his-Right-Eyebrow Drama School) admitted that she rarely ventures out. "I have friends that I adore and I like going to safe places with them, my home or their home," she said.
Yet another millionaire thesp "suffering" the pressures of fame. Listen chip-pan hair, if you don't like the occasional little person kissing your arse, telling you they love you, and asking for a selfie then fucking retire! Nobody's forcing you to appear in twenty shows a year. Christ on a skateboard! Start the clock on the "Trump man bad, Bwexit bad" gibberish. The only difference between you and any other whining, preening one-trick fucking pony is that you actually resemble a pony, you bug-eyed, bunny-toothed bore.
Nominated by Captain Magnanimous