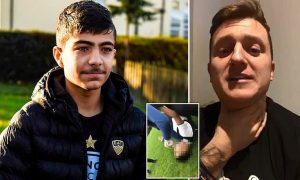 Most towelheads who land up on the beach at Herne Bay or Folkestone in the early hours usually just ask for the address of the nearest benefits office, but now we have a new breed of soy boy for whom child allowance is just not enough.
A cunting with benefits please for this sixteen year old money grubbing fucker – a Syrian "refugee" who has found the wherewithal to sue Tommy Robinson for defamation, because his little teenage feelings have been hurt
We have quite enough fucking trouble makers of our own clogging up the courts. If this little cunt doesn't appreciate free speech, perhaps he should fuck off back to Syria and take a boatload of his fellow "refugees" with him, but I know and you know he will weep in the witness box and win.
Nominated by W. C. Boggs