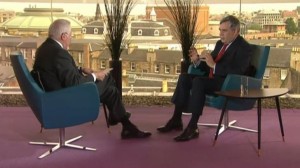 Have been keeping me head well down out orf line orf fire orf all this referendum bollocks. Twas until I thought I might watch the Dimblebum interview with Brown and Salmond. Might see Salmond put to the question at last. Ha! More fool me. Usual BBC hatchet and toady.Two separate interviews. Brown on first and hardly allowed to give an answer without interruption then next Salmond allowed to comment on everything Brown said while Dimblebum sucks his cock and fails to ask him one penetrating question.
Thought Brown stood up quite well to his onslaught while the slippery Salmond cunt oozed more oil than a deep fried Mars bar. But bugger me, this was the apogee of debate over a matter so crucial to the nation. News generally seemed to be reporting that with over 80% now registered to take part in the referendum and polls still neck and neck with both sides scrambling to capture the allegiance of those that usually cannot be arsed to vote ie dossers, crack arsed single mums and pissed old fuck pensioners in shitty underwear.
Thus the fate of this sour nation of inbred celts, norse and scumbags, that prides itself on having once been the Athens of the North, is to be decided on the basis orf which side will provide the highest level of benefits. And how are their pledges to be paid for? The No campaign have that worked out. They will keep the Barnet Formula which means that the English will continue to have the pleasure orf paying for it. Salmond's mob have not a clue other than somehow the English will have the pleasure orf paying for it. All based on the length orf their hair or some such.
Makes one proud to be one nation.
Oh and fright orf the night was to see Nicola Sturgeon in her new makeup based on Morticia from The Addams Family.
Nominated by: Sir Limply Stoke